Please check this page regularly for a list of current SCA Fundraisers and support our student activities whenever you can.
(This page is for SCA school-related student activity fundraisers only.)
If you would like your SCA student organization's fundraiser information posted to this page, please click HERE to access the Fundraiser Information Form. If there is an informational flyer to accompany your post, please email the flyer (in PDF format) to Tresa Britch.
Southern Columbia Area Baseball Team
CASH BINGO FUNDRAISER
The SCA Baseball Team will be holding a Cash Bingo fundraiser
~ Sunday April 16th, at the Catawissa Fire Hall ~
Doors open at 12:00 pm - BINGO begins at 2:00 pm
~ 20 Games - Raffles - Chinese Auction - 5 Bonus Games ~
Food & Drinks - No Alcohol Please!
Tickets: $25 in Advance - $30 at the Door
(Checks payable to: SCA Baseball Boosters)
Please see Rick Roughton (Technology Education Teacher) Coach Myers, or any Player for tickets
THANK YOU FOR YOUR CONTINUED SUPPORT!
Southern Columbia Music Department Bingo!
Saturday, February 25, 2023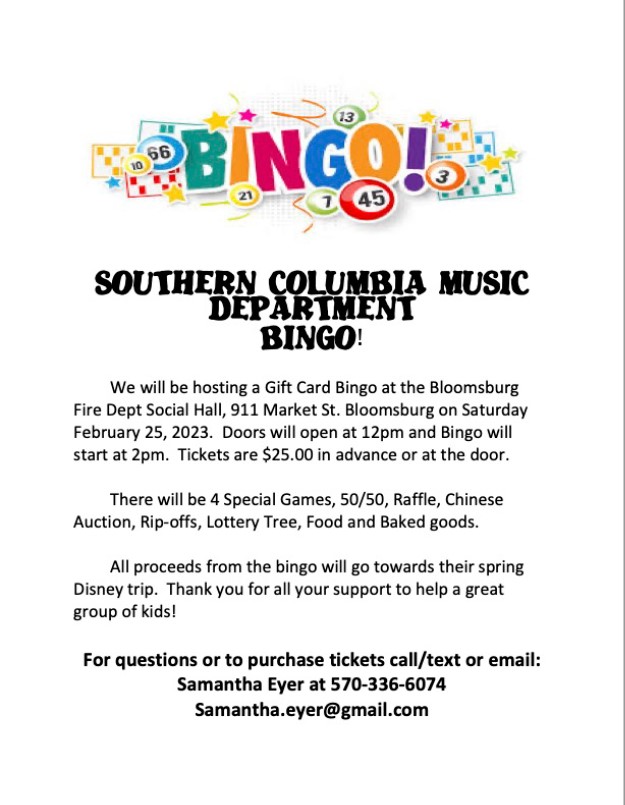 The Technology Education Department is selling etched glasses and polar camel tumblers. Click HERE for options and pricing.
Tech Ed Custom Creations can also do custom glasses and tumblers. They can put anything on them, as long as it is not a copyright issue.
Contact Technology Education Teachers Jack Rarig or Richard Roughton to place your order. All proceeds benefit the
Technology Education Department.
THANK YOU FOR YOUR SUPPORT!